Henry's Tempeh Inc. has been producing handcrafted, artisanal tempeh, made with certified organic and locally grown soybeans, since 2002. Situated in Kitchener, Ontario, on the western border of the "Golden Horseshoe", Henry's Tempeh is the ideal first and favoured choice for fresh (never frozen), fermented tempeh. With a best before date of 4 months, Henry's Tempeh is ready to eat straight out of the package, making it both a convenient and indispensable ingredient in the kitchens of chefs and cooks everywhere!
Specially catered to the health conscious consumer, Henry's Tempeh ensures the highest quality gluten-free, dairy-free, vegan, fermented and cultured meat alternative, while providing an entirely natural, and minimally processed tempeh, with absolutely no preservatives added! Their unique fermentation process breaks apart the hard to digest parts of the soybeans making our product much easier on the stomach than other soy food products. With double the protein of tofu, and 6 times the fibre, it's no wonder why tempeh is known as the "super food of soy foods".
Henry's much sought after and most popular plain Soy Only tempeh makes for a versatile and well textured whole food in any kitchen, with a traditionally nutty flavor that is firm and chewy in texture. Easily sliced, cubed, crumbled and marinated, Henry's Tempeh also comes in Soy Kasha, Soy Curry, Soy Basil, and Soy Red Pepper flavours. All contain the same high protein content that provides a complete protein food with all the essential amino acids! With the popularity of tempeh on the rise, Henry's Tempeh has become a staple in upscale health food stores, markets, and grocery stores, and is featured on many menus in restaurants, cafes, food trucks, and caterers.
The Henry's Tempeh Story
Henry's Tempeh can trace it's roots all the way to Salt Spring Island, one of the Gulf Islands in the Strait of Georgia between mainland British Columbia, Canada and Vancouver Island.  Of course, Tempeh comes from a much farther away place, the beautiful country of Indonesia, where one of the owners spent 3 years working and becoming fluent in Bahasa Indonesia.  We'll get back to that bit later though.
Back to Salt Spring Island for now, which you can say is a bit of an unlikely place to start their story. Back in those days, Henry, the original founder of Henry's Tempeh (as you might have guessed!), was intrigued enough by his daughters idea to help start a tempeh company to serve the island and beyond. After traveling across this great land with a truck and trailer full of equipment, the operation was brought to fermentation (ha!). Thus, Salt Spring Tempeh was born, a true family business!  Yes, it was on an island, but logistical problems could be solved later, for the time being the place was simply gorgeous and a perfect place to make tempeh. With things running smoothly and his daughter in control, Henry decided it was time to be on the move again.
Having returned to Kitchener-Waterloo, Henry decided he would finally make one of his dreams come true; to run a business all by himself! It was ambitious.  And at times, perhaps rambunctious!  But most of all, it turned out to be delicious!  Henry quickly began making tempeh in Kitchener-Waterloo, while promoting the product as much as he could by demonstrating to audiences how to cook and prepare the products.  His charm and personality helped win many over to the Henry's Tempeh brand, while the non-bitter taste and high quality of the well-crafted products sealed the deal.  Loyal customers to this day still refer to anyone and everyone answering emails or phone calls at the company, as "Henry."  It's become a bit of a tradition for The Henry's Tempeh Team to never correct someone when this happens, and it always puts a smile on their faces.
Let's take you back to Indonesia now.  Paul (one of the current owners) had returned from spending a total of 3 years on Java Island, a place where tempeh became part of his daily diet.  He became fluent in the language, and worked in aid relief, having himself experienced a few earthquakes while there.  Now how Paul stumbled on a job posting for a tempeh company, back in his home town, is still an incredible coincidence they talk about often.  It was perhaps simply meant to be.  After writing one heck of a cover letter explaining his experience in Indonesian culture, Henry just couldn't say no to hiring him.   Paul slowly mastered the art of tempeh making, guided by long time employee Begzada, whom still works for the company, making her perhaps North America's longest running tempeh maker.  He informally also serves as the company historian, having watched the business grow and change throughout the years.
Well, after a few years of making tempeh, Paul began to really see the potential of this healthy and amazing super-food.  But his heart yearned for one more big adventure before considering asking Henry about his plans for the future, and proposing that he was interested in coming on board as an owner.  Henry was in a similar predicament.  He also yearned for something, to finally spend more time with his family and travel the world after years and years of hard work.   And so one day (and this has been romanticized here for your entertainment), as Paul was walking from the warehouse where he had just finished manually screening soybeans (yes, we used to do it that way!), and Henry having just rolled up to the shop on his super cool motorcycle after making a delivery, a discussion on the future of business was had.
And so it was agreed the business would be sold to Paul, on the condition that he would first be able to spend 56 days riding his bicycle across Canada.  The only problem was to find somebody to help make tempeh while he was away.  Paul's old friend Phil, whom had visited him for a month in Indonesia, stepped in.  He  ended up loving making tempeh so much that he stayed with the company as Paul took over from Henry.   During that same time, another old and very handy friend of Paul's, Jason, came on board to help maintain and upgrade all of the equipment, in order to bring the operation to the next level.  The demand for Tempeh was steadily growing, and so keeping up with demand was a real (good) problem!
With the increasing amount of work to be done, and the many ideas and dreams shared among the 3 of them, it was decided that Jason and Phil would join Paul as partners in the business.  At that time, the decision was also made to move from their beloved location at 237 Arnold Street Kitchener, to a much bigger facility in Kitchener's Huron Business District.   Begzada, Paul and Phil worked hard making tempeh every day, while Jason began building the company a new food processing facility, doing it almost all from scratch!
As Paul and Phil would finish production each day they would travel across town to the new facility to lend Jason a hand.  It was a lot of work, but eventually, the new facility was launched in October of 2016.  Soon after, in January 2017, the business received HACCP certification.
In October 2016, the company relocated and expanded to their HACCP certified, and CFIA inspected food processing facility located at 65 Trillium Park Place, Unit #15 in the Huron Business district of Kitchener. The facility was designed and built by their own team, making it a unique and modern space specifically designed for their needs.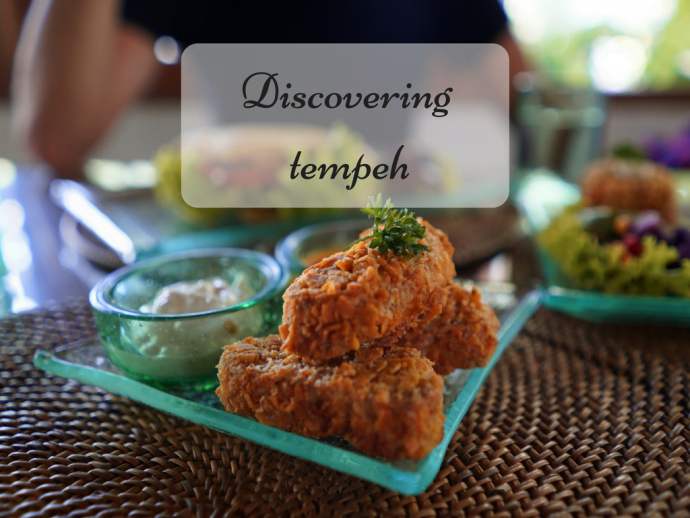 Tempeh is one of the most nutritious (and delicious!) soy foods. It has been a staple source of protein in Indonesia for several hundred years, dating back to (as far as we know) 1815. It is an excellent choice for vegans, vegetarians and the health conscious as a meat replacement. Tempeh is made by a natural culturing and controlled fermentation process that binds soybeans into a delicious cake form.
The starter culture Henry's uses is called rhizopus oligosporus [rye-zoe-pus oligo-spor-us]. This is a form of fungi, like mushrooms, that is very beneficial both during the fermentation process and for our guts.  The fungi plays a critical role in breaking down a large portion of the soybeans' protein, converting the protein into amino acids which makes for the easy digestibility of tempeh.  As the culture spores germinate and grow they bind the soybeans together into compact white cakes. The result is a chunky delicious cake of beans that delivers a mild, nutty flavour with a firm yet tender, meaty or chewy texture.  The only limitation in using tempeh is your imagination!
Why Should I Choose Tempeh Over Other Kinds of Soyfoods?
Henry's Tempeh has several distinctive advantages or benefits over other kinds of soyfoods.
Protein: Tempeh has twice (or more) the protein of tofu.
Fibre: Tempeh is high in soluble or dietary fibre. Tofu has little to no fibre.
Cultured: Tempeh is a cultured food, tofu is not. The culture is significant in that it breaks apart as much as half the soybean's protein, converting it into amino acids during the culturing process, making digestibility easier.
Fermented: Tempeh is a fermented food, tofu is not. Fermentation is significant in that it neutralizes the phytate acid present in soybeans. This acid limits the body's absorption of minerals; neutralizing this acid means that by eating tempeh one does not limit the absorption of essential minerals.
How Can I Eat the Tempeh?
Normally, tempeh is eaten cooked. Tempeh can be marinated, grilled, grated, stir-fried, pan-fried, toasted, baked or steamed.
How Do I Store Tempeh?
Fresh tempeh, in the unopened vacuum sealed pouch, can be kept in the refrigerator (2 – 4°C) until the best-before date stamped on the package (4 months from manufacture). Once the package has been opened, the tempeh will generally keep well for several days, provided it is stored in a sealed container and in the refrigerator. Frozen tempeh keeps well for several months.