Homeocan Kids 0-9 Cough and Cold Syrup 250 ml is one of the homeopathy products ChelseaMarket.ca offers. Take a look at other homeopathy products.
Homeocan: A Long and Proud History
Homeocan has been a Canadian leader in the manufacturing and the distribution of natural health products. since 1987. Founded by Michele Boisvert and headquarted in Montreal, Homeocan serves over 10 000 customers in 16 countries. In the USA and outside Canada, Homeocan is represented by Homeolab USA.
With its 50 employees and 30 000 square meters of space, Homeocan offers more than 400 prime quality natural products manufactured in strict accordance with Health Canada. Homeocan alternative solutions include essential oils, trace elements, natural supplements, plant extracts, homeopathic solutions, and hygiene & beauty care products. Homecan manufactures and distributes natural solutions that answer to the particular needs of women, men, babies, kids, seniors, and even pets. Their company philosophy is summarized as follows:
Since their inception, Homeocan Laboratories' mission has been to provide Canadians with access to high quality homeopathic and natural products. Present in pharmacies and natural health food stores, Homeocan Laboratories provide opportunities for families to heal naturally from a company in which they can trust.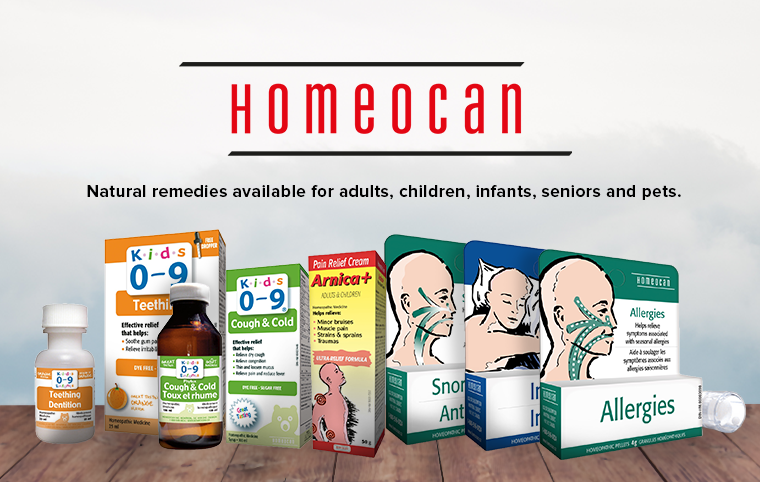 Excellent Leadership Through Michele Boisvert
Michele Boisvert, founder and acting president of Homeocan, is originally from Montreal. She graduated in 1965 with a degree in pharmacy from the University of Montreal and she was one of the first Canadian women to open her own pharmacy in Quebec. She also holds a diploma in Homeopathy from the Mosane School, in Belgium, and a bachelor in piano from the University of Montreal, making her a multi-talented woman,  whose contribution has been acknowledged by her peers through several prizes:
the 2012 RBC Canadian Women Entrepreneur Awards
the Pharmacist in Industry Award in 2005
the 2013 We-Connect International Women's Business Enterprise certification
Her nomination at the CHFA Memorial Hall of Fame in 2013 recognizes her outstanding contribution to the development and growth of the industry.
On the Cutting Edge of Technology
In March 2013, Homeocan completely renovated its laboratory in order to ensure a production with optimal quality. Isolated with airtight doors from the other areas and with a controlled pressure atmosphere, it guarantees complete security during the manufacturing process. New equipment was also added: 6 new laminar flows, 2 IMPREGMAT machines for the impregnation of pellets, granules, and tablets, and one Korsakov machine for the automatic preparation of Korsakovian dilutions. With the best materials on the market, Homeocan is sure to provide a wide range of premium quality natural products.
Company Social Involvement
For Homeocan, contributing to the wellbeing of its community is essential. For several years, the company has been investing locally through donations and sponsorship programs. Several fundraisings have been done for the Cystic Fibrosis Foundation. Homeocan has also supported the Jean-Lapointe Foundation against drug addiction and The Orchestre de Chambre I Musici de Montreal. For many years, Homeocan has been a proud sponsor of the Orchestre Symphonique de Montreal, with the Homeocan Grand Concerts Tuesdays.