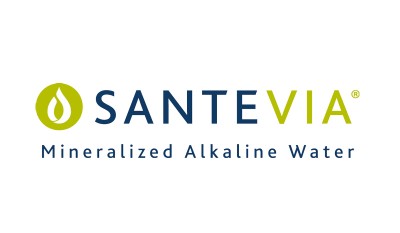 Santevia Water Systems Inc. began with a problem – a health problem.  Co-Founder, David Anderson was diagnosed with acid reflux. His doctor recommended a pharmaceutical which he would be on for the rest of his life. Co-Founder, Yvonne Anderson, a kinesiology graduate and health advocate didn't like the idea of a 'drugs for life' solution. This led to research in blood chemistry and an understanding of the role of pH in the body and the need for an acid/alkaline balance solution.  David was acidic and this manifested as acid reflux, so the goal was to get him more alkaline.  The remedy – alkaline food, better and more hydration with mineralized and alkaline water and more exercise.  Alkaline food and exercise were readily available but finding cost effective mineralized and alkaline water was not easy.
The Andersons found their way to an Eastern solution that used Japanese technology to transform ordinary tap water into clean, clear, mineralized drinking water. Santevia brings clear, fresh mountain taste, and a pH of over 8.0 to every glass of water. Best of all, it's affordable and environmentally friendly. Using all-natural earth elements, the water is infused with essential minerals. Regular tap water is transformed into clean, mineralized alkaline water at a lower cost than any other common filter systems. More than a water filter, Santevia adjusts water's pH to mildly alkaline by reintroducing minerals that promote ionization and oxygenation helping your body maintain its active equilibrium.
The Andersons knew this was the right product at the right time and they decided to make these affordable, environmentally friendly, pH-enhanced water systems available to the public. The business, which began in 2008, started as a home-based business, and has grown rapidly to include distribution in Canada, USA, United Kingdom, Europe and Asia.  Santevia Water Systems Inc. is now manufacturing many of their products in their production facility in Vancouver, British Columbia, Canada.
From day one, Yvonne & David Anderson established Santevia Gives Back, a philanthropy program to provide safe drinking water, education, and a safe place to live for children.  Santevia Gives Back currently sponsors 3 orphanages in Thailand, a school in the slums of Bangladesh, water projects in Africa, Haiti and the Dominican, and other needed projects at home and abroad.   Part of all the proceeds of Santevia goes to the Santevia Gives Back.
A very important thing for the Andersons in this journey is that after a few months of drinking Santevia mineralized and alkaline water, David stopped taking his reflux medication and his persistent acid reflux cough has never returned. A well hydrated and pH-balanced body is crucial to your good health.
Committed to the Environment & Sustainability
Santevia is not only committed to your personal health, but also the health of our environment. Bottled water is expensive and damaging to our planet, and many people may be unaware that almost half of the bottled water sold today comes from city tap water supplies. When bottlers are not selling city water, they pump and sell common water resources that belong to the public. These pumping operations can harm the environment and natural resources that communities rely on. (6)
Not only will a Santevia Water System give you mineralized, alkaline water, but it can also contribute to a more eco-friendly future.
Here are some things you may not know about bottled water:
Globally we are now buying 1 million plastic bottles per minute. (1) This sum is expected to increase to 583.3 billion by the year 2021. From 2016 amounts, less than half of all bottles were recycled. (2)

The U.S. recycling rates for plastic water bottles was only 31.1% in 2015. This was a 0.06% decrease from 2014 rates. (3)
The U.S. bottled water market is continuing to grow exponentially, reaching a volume  of 11.7 billion gallons consumed in 2015, a sum almost 3 billion gallons greater than 2007 amounts. (4)
In 2015, the average american drank 36.5 gallons of bottled water, compared to 1.6 gallons in 1976. (4)
The majority of plastic bottles are made from a material called polyethylene terephthalate (Pet) which takes, on average, 400 years to degrade. (1)
Most plastic water bottles end up in landfills or our oceans. On average, between 5 million to 13 million tonnes of plastic end up in our oceans per year and by 2050 it is predicted that the ocean will hold more plastic (by weight) than fish. (2)
The rising cost of gasoline is relevant to nearly everyone who drives a vehicle. Yet gallon for gallon, bottled water costs almost two times as much as gasoline, and 2000 times as much as tap water. (5)
Based on data from Food and Water Watch, making water bottles to meet America's demand used between 43 and 72 million barrels of oil in 2015. (6)
Just because it is in a bottle does not make it safe. In the United States, the  FDA requires more stringent safety monitoring of municipal tap water than for bottled water. (6)
The Acidity – Alkaline Fine Balance
Your body works hard to maintain a healthy balance between acid (lower on the pH scale) and alkaline (higher on the pH scale), helping your systems operate efficiently. When there is an imbalance due to stress, lack of sleep, and over consumption of acidic foods (such as sugar, processed foods and alcohol) your body has to work harder to maintain its optimal pH level. How? By reaching for the alkalizing minerals it needs to counter the higher levels of acid. Unfortunately, these minerals are leached from your bones, organs and tissues. This depletion of resources, combined with the fact that viruses, fungus, yeast and bacteria thrive in acidic environments, opens the door to imbalance and disease in the body.
Many people are choosing to consume more alkaline foods and drinks to help their bodies maintain a healthy pH balance. In fact, the World Health Organization recommends consuming mineralized water for the maintenance of optimal health.
 Alkaline Water for the Whole Family
Consuming alkaline water is a healthy choice for the entire family. No matter what our age our bodies need essential, alkalizing minerals for development and the maintaining of optimized health.
CHILDHOOD
During childhood, we are in the prime developmental years and our bodies require plenty of minerals in order to support healthy growth. Water treatment plants strip our drinking water of these essential minerals which can lead to higher risks of mineral deficiency. Calcium and magnesium are vital for the development of our teeth, bones, muscles and nervous system. A lack of these minerals can lead to issues of stunted growth and higher rates of bone fractures. Trace minerals are crucial for brain development. Mineral deficiency during childhood can impact normal brain development, as well as proper neuropsychological functioning. In order to support the healthy growth of children provide them with a balanced diet, and plenty of mineralized and alkaline water.
PREGNANCY
Eating and drinking alkaline foods and water is not only one of the best things you can do for you and your baby's health, but also a great way to alleviate some of the side effects that are part of the wonderful experience. From morning sickness and heartburn, to swollen feet and pregnancy brain, these unpleasant side effects can result from increased bodial acidity and dehydration. Research shows that an expectant mom's body pH will drop towards acidic during pregnancy and there is higher risk of dehydration. Drinking Santevia mineralized and alkaline water before, during and after pregnancy will optimize the mother's body, preparing it to deal with all of the change.
AS WE AGE
Alkalizing minerals are just as important during our later years as well. As we age, our bodies begin to wear and become less efficient at absorbing calcium and other essential minerals. This places us at  a high risk for calcium deficiency and increased susceptibility to disease caused by bone and muscle deterioration such as osteoporosis. Acidosis of the body furthers our chances of developing osteoporosis as essential minerals are leached from our bones to help our body maintain its optimal pH. To maintain a healthy, strong body as we age we must nourish our body with alkaline water and the essential minerals it contains.
 Alkaline Water for Fitness
Alkaline water is a popular choice for bodybuilders, athletes, and fitness enthusiasts due to its ability to help your body sustain physical activity for longer periods of time at higher workloads. How? During training, your body produces lactate, and works hard to clear it. When lactate production exceeds your ability to clear it ( your Anaerobic Threshold) your energy production becomes dominated by your anaerobic systems. An alkaline environment in the body increases your ability to clear lactate, thereby increasing your Anaerobic Threshold, and letting you workout longer and harder.
Santevia Gives Back
The vision of a giving program was in the forefront of the founders' minds when they started their company, Santevia Water Systems. While at a conference in Thailand, they visited an orphanage and fell in love with the kids.  They discovered that this orphanage desperately needed funding and that birthed the idea of Santevia Gives Back, their philanthropy program that gives 5% of profits to help others, including the House of Faith orphanage in Thailand.
Santevia Gives Back has expanded their philanthropy to include funding two orphanages in Thailand, a school in the slums of Khulna, Bangladesh, water projects in Africa and Haiti, an orphanage farming project in Indonesia and a number of healthy living projects in their local community.
Giving is a core value at Santevia and is more than just part of their mission statement–it's part of who they are.
Learn more about some of the people they help support:
Women/Children
House of Hope & House of Faith Orphanages in Thailand
As the principal benefactor for these orphanages, Santevia helps provide food, shelter and schooling for 40-45 wonderful orphans.  They visit the orphanages annually to meet the children and the dedicated people who care for them.  Their goal is for the orphanages to be self-sustaining in 10 years through agriculture and micro businesses.
Roslin Orphanage in Indonesia
With the goal of helping communities self-sustain, Santevia donated a rototiller plow to the Roslin Orphanage in West Timor.
Amarok Society Women's School
Custom port colony is a large slum in Khulna that stands behind a railway track in the center of the city. Approximately 235 families live there, with an average family size of six. Men often work pulling rickshaws, as mobile vegetable sellers, chopping wood and running street shops. In addition to household chores and caring for children, some women work as maidservants in neighboring communities. Very few children attend school at all.
Funded by Santevia, the Women's School opened in February 2013 and within just a few months, mothers learned letters (Bangali& English), numbers, and songs. They spend two hours every day learning to read, write, play and sometimes draw. Each of the mothers then educates five children so they can continue to grow the education of the families living in this slum.
Water Projects
Dominican Republic & Haiti
El Brison and Las Batatas Arriba in the Dominican Republic have neither running water nor electricity. Vehicle access to these communities can be difficult or impossible depending on the weather conditions. As a result, these communities have been largely neglected and remain completely without infrastructure, apart from a one-room elementary school.
The funding supplied through the Santevia Gives Back Program provides drinking water to 49 homes serving 205 people plus any population expansions. Cement tanks provide 25 gallons per person each day, with a Community Water Board governing the water system.
During the project, several members of the community were trained to build the water tanks and will travel to Haiti to build at least eight new tanks for communities in need over the coming year.
Africa
The town of Kibaale is located in a notoriously dry region of Uganda. Famine is not uncommon during the dry seasons, which last much longer than in other areas of Uganda. As a result, capturing rainwater as it falls is critical. The collection and storage of fresh water for the students and their families is the lifeline of the community. Before Santevia's funding, they were using three types of collectors: Jerry Cans, 40-liter drums, and 2,000-liter containers. All three worked well, but they needed something of larger scale.
Santevia donated a 24,000-liter tank to complete Kibaale Community Center's water storage capabilities, providing clean drinking water for the community for up to 15 years. This project allows girls in the community to attend school instead of transporting water.